Here is another easy and one of my favorite recipes to make. Once again the star of the show is chicken, like I have mentioned before, chicken is one of our favorite white meats. When I make chicken fajitas, I like to use rotisserie or left over chicken. For this recipe I used the

Bisquick oven baked chicken

that was leftover from the day before. I took all the skin off and shredded the chicken and I had myself chicken for a new meal. Keep reading for full details and a downloadable recipe card at the end!
Shredded chicken (I used about 1lb)
Flour tortillas (I used Guerrero brand)
1/3 cup of cooking oil (I used vegetable oil)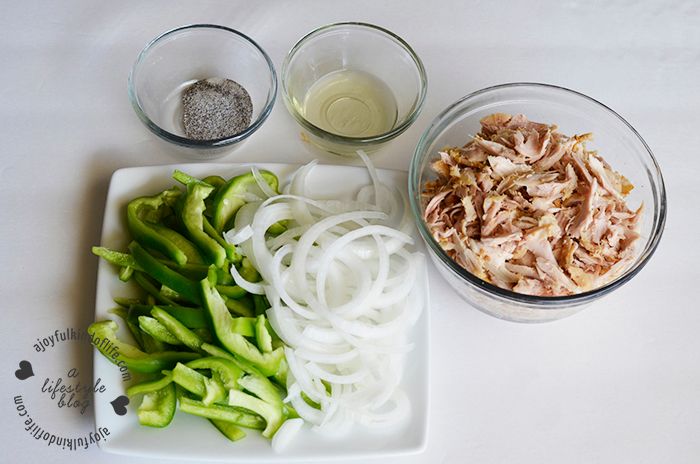 Mix salt, pepper and chicken in a bowl, set it to the side.
Heat pan to medium heat once pan is heated up, add oil and let oil get hot.
Once oil has been heated up, add sliced bell pepper and slide onions, mix everything. Let the vegetables heat up until they are soft and slightly cooked.
Once vegetables are slightly cooked and soft, add shredded chicken and mix well. Continue cooking everything for about 15 minutes or until everything is heated up.
Slightly heat flour tortillas to make the folding of the fajita easier. Add shredded lettuce and ranch dressing, then fold tortilla into a wrap.
Note: Adding lettuce and ranch is totally optional. You can add whatever you desire or eat it as is!
We ate our fajita wraps with Mexican rice (you can find my Mexican rice recipe HERE) and freshly squeezed limeade.
How do you like eating your fajitas?
I hope you guys try this easy and delicious recipe, enjoy!
Happy eating and happy Wednesday!
Wow me Wednesday