It just so happened that this past Friday I was feeling the #selfies!If you follow me on
instagram
, then you probably already saw how I flooded the instafeed. I might be exaggerating when I say I flooded instafeed, but that's what it felt like. I'm not a selfie kind of person at all, so I really don't know what got into me on Friday, but it's okay a #selfie here and there never hurt anyone right?
Ok so we really don't take #selfies on Fridays!
I really think selfies need to be mastered and boy do I see really awesome selfies on instagram. But when it's my turn to turn the camera on to me and pretend to look cool taking a selfie, well my friends, that is something I definitely have not mastered yet! Much respect for all those #selfie takers out there!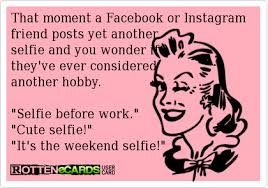 "it's the weekend selfie"
"let's take a selfie Riley"
Me: "Marc let's take a selfie"
Marc: "It's not a selfie if we're both in the picture"
Me: "okay, let's take a group selfie"
Guys, I'm learning this thing called #selfie it takes practice
Like I said, much respect for all those selfie takers out there, but I couldn't help this #ecard and a hashtag here and there. Because this wouldn't be a selfie post if it didn't include hashtags!
And excuse the #selfie parade going on here on this blog today.. have a great day!
And before I let you go.. I would love to be your newest follower on instagram and stalk your #selfies (kidding) but if you want leave your user name in the comment section and if you really want you can follow me too :)
Linking up with Showered with Design