Happy Friday!
I can't believe we made it to yet another Friday, time flies when you're having fun! I've actually been having a great time because for the first time in a very long time, I'm taking the summer off from school and work. As the Mr. would say, It must be nice :) I really appreciate all his hard work but I needed this break! Since I've had the opportunity to stay home I have discovered some guilty pleasures, so without further do here we go!
one.
Crafts. Crafts can be considered a guilty pleasure of mine. Guilty pleasure in the sense that I can spend countless hours crafting and during that time I won't answer the phone, talk to Marc, and even pay attention to Riley. It's okay because this is a pleasure I give myself once in a while! I have recently discovered A Night Owl Blog and she has great craft ideas plus anything lifestyle related (and she is from Arizona). I love this blog it has become one of my daily reads for sure. Here is one of their awesome 4th of July inspired creations!
Oh these skinny cow ice cream sandwiches really had me drooling (well not literally but almost). As you can see Riley join my party and ate away at that skinny cow! This is how I eat them, I eat all the edges first and then I go in for all the middle goodness. Then Riley licks my fingers, yup and that's how we both enjoy a good old ice cream sandwich. Best part of all these are only 150 calories per sandwich!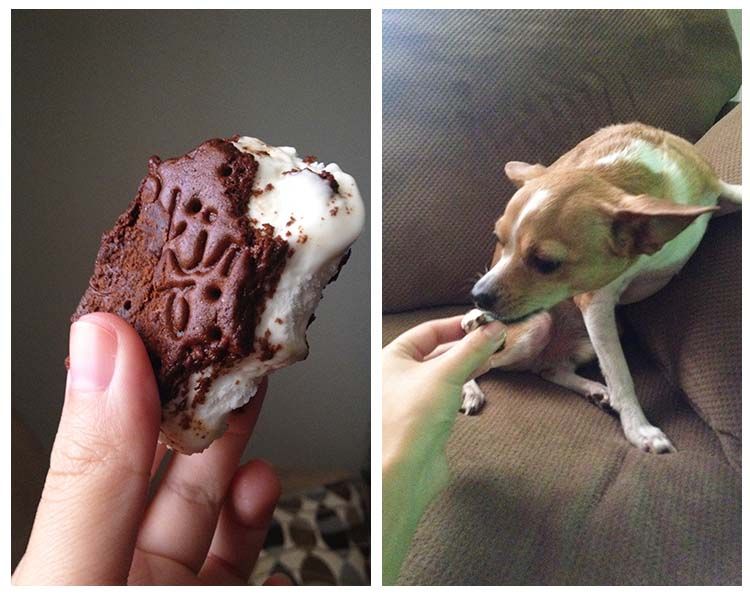 Carne Asada Fries are another guilty pleasure of mine and my husbands. I crave these all the time, they are just so good but so bad. If I could have these everyday I would but I have to limit myself to only one every two months or so :/ There is a place down the street (not the best idea) from my place that sells the best carne asada fries and I'm always so tempted to stop for some fries, but NO, no bueno! We actually had these this week and as you can see there is no photo to show you what I'm talking about because the last thing on my mind was to eat them and not take a picture of them, that's how delicious they tasted. Let me know what you think of these!
Pillows. These are a secret guilty pleasure of mine. I love looking at pillows and my favorite stores to do so are Marshalls, T.J. Maxx, and Pier 1 Imports just to name a few. I love all the designs, colors, and just everything about them. I also like making my own pillows, but lately, that hasn't happened. I'll just stick to looking at them and getting ideas for when I decide to make my own! Aren't these pillows just the best, I need to get me some of these!
I had to mention Orange is the new Black. This is one of those shows that makes me want to watch it all in one day but I can't, so instead it has become my guilty pleasure for sure. The Mr. and I are really holding back from watching the whole second season in one sitting. We (hubby and I) really enjoy all the drama and the stories behind each inmate, crazy stuff!
What are your guilty pleasures?
Thanks for stopping by :)